Take Action! Contact your legislator
The Oregon Legislature has begun the process of determining school funding for 2017-19, and some proposals are $400 million to $600 million lower than what Oregon K-12 schools need just to maintain current levels of service. School business officials estimate that it will take $8.4 billion to avoid further cuts to schools. Please visit the Oregon Rising website and write your legislator about the importance of investing in our students.
Take action! Tell your district's story
Across our state, public schools are preparing today's students for college and career through programs in career and technical education (CTE) and classes that emphasize science, technology, engineering, arts and math (STEAM).
Districts across Oregon (see below) are touching young lives and preventing dropouts through early learning initiatives and taking classrooms to the outdoors through natural resources programs.
The Promise campaign wants to show the public, and legislators in Salem, the amazing things that schools are doing. And we want to convey your vision of how your school or district could "dream bigger" and do even more.
To do that, we need your help.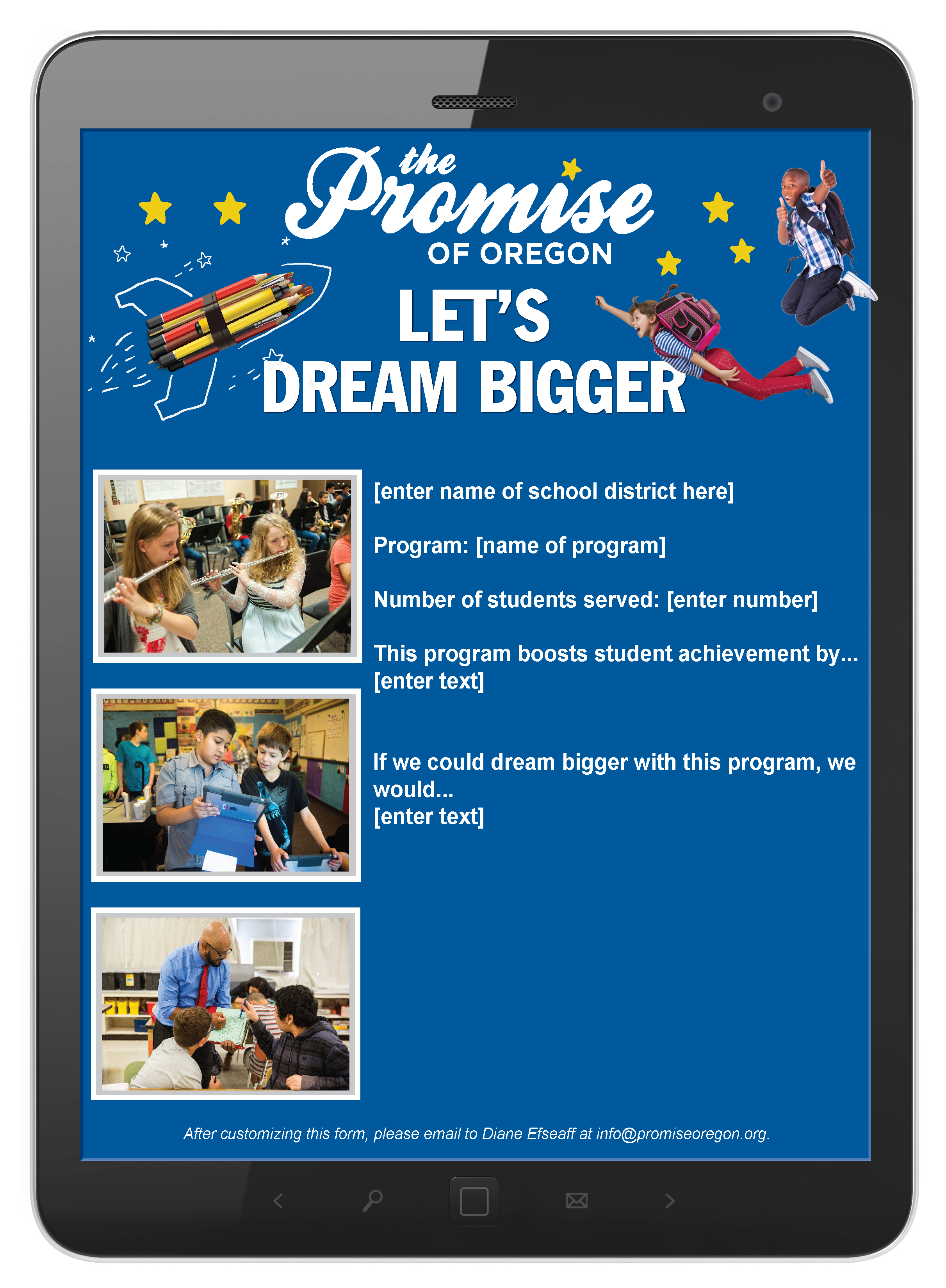 Simply click the photo above to open a fillable form, and take a few minutes to fill in the words to the form to show how you are dreaming bigger. Once finished, save it and then email the completed form to info@promiseoregon.org.
We will do the rest to ensure that Oregonians, including our state educational leaders, see how far you are propelling kids toward their future, and how far they could go if we dream bigger.
Completed Tablets: Athena-Weston SD; Beaverton SD; Bend-La Pine Schools – Nutrition Services and Summit High Newspaper; Fern Ridge SD; Forest Grove SD – Aquabots, Dual Language, and Viking House; Harrisburg SD – AVID and Music; High Desert ESD – Better Together and i4; Jefferson SD – Lions in Lights and Physical Harmony; Lake County SD; McMinnville SD – Close Achievement Gap, College Credit Now, EASA, and Ready for Kindergarten; North Santiam SD; Pendleton SD; Reynolds SD; Salem-Keizer SD; South Lane SD; Tigard-Tualatin SD